Secure access - Go digital - Promote initiatives
Keep your data secure and your business compliant
Businesses exposed to growing internal and external threats can rapidly secure all of their on-premise and cloud applications around the central of ROK Access Management system.
ROK enables HR and business teams to easily manage users, create workflows, document responsibilities, and assign specific responsibilities without any IT help. 
A robust access management framework provides real-time production systems accountability. All employees are accurately provisioned and de-provisioned in all applications. It keeps your data secure and your business compliant.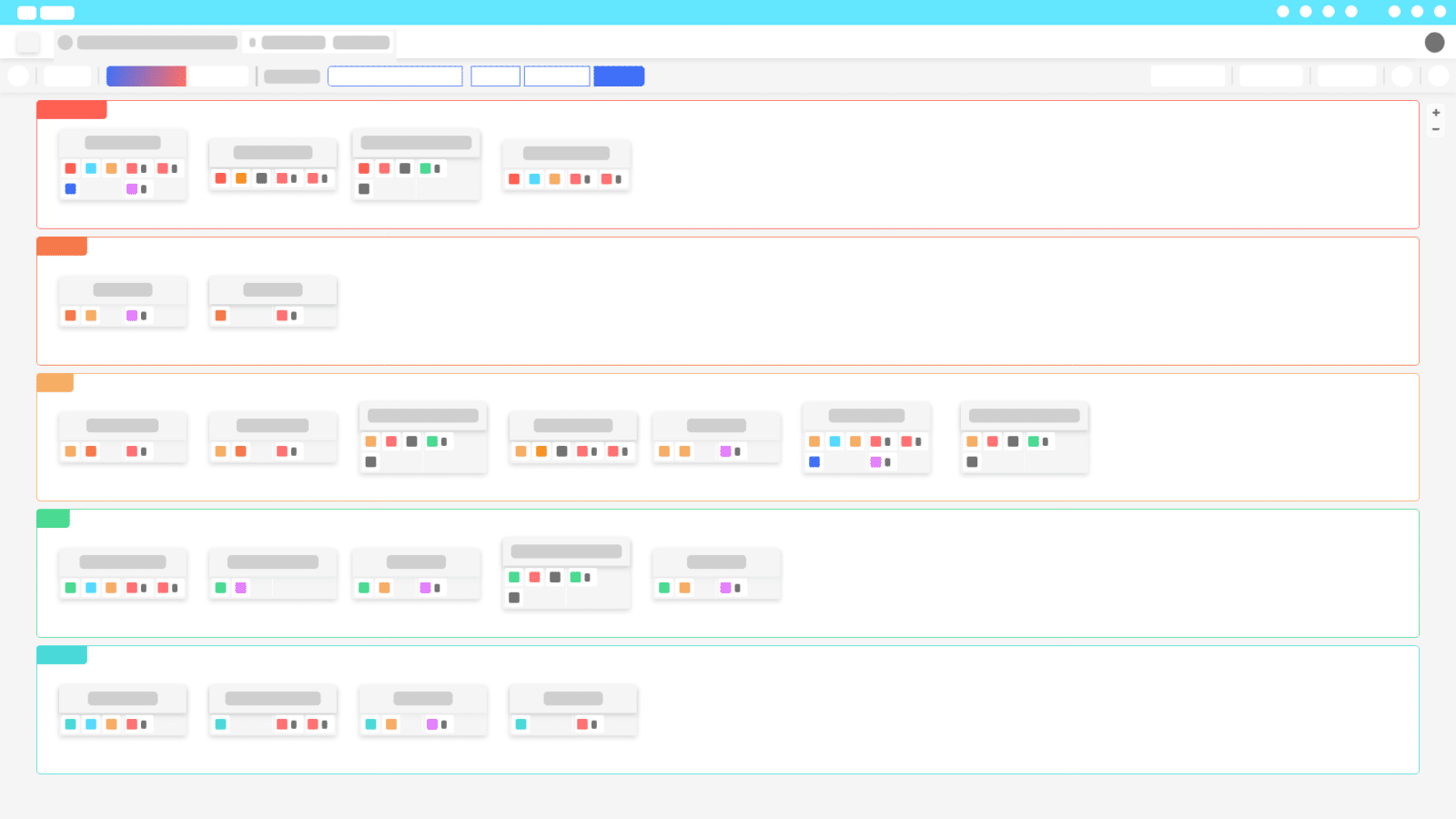 Features
A unique organizational & systemic approach

To identify in real-time who is accountable for certain transactions and who requires access to them.
An improvement of the principle of least privilege (PoLP)
To give the right permission to the right users, applications, systems, processes, and devices at the right time.
in accordance with any HR platform or annuary.
Manage every in & out or move.
Map identity profiles.
Automatically identify & secure

new accesses from low code.
Natively endows SoD functionalities
ROK's unique concept connects identity governance and up-to-date processes with segregated duty maps.
Access to all reports in multiaxial reports
Every ID – custom, organizational, or process indexation – is by design a set of criteria.
Up to date maps integrating API with a major BI market platform.
4

Provisioning applications & EDM
Automatically provision your applications
like ERP, CRM, Low-Code apps, homemade workflows.
Apply your own organizational changes
to preexisting complex workflow rules.
Secure existing multichannel EDM
Regardless of the source of data, ROK allows real-time access to appropriate documents per responsibilities & company policies.
Thanks to our smart and automatic indexation, you don't have to lose time organizing your data anymore: ROK's taking care of it.
SAP
Benefits
Features
Benefits
Benchmark
Features
1

Map out your entire organization from org chart
to work processes, apps, bots, identity access, and data risks using the exclusively visual no-code interface and natural language.
Create & deploy Apps & Bots quickly without any code
to automate complex processes end-to-end.
Simulate with no delay exogenous interconnected workflows thanks to our easy-to-use web automation tool.
Interconnect IT ecosystems without any limit
via ROK API using natural language instructions accessible to non-technical users.
with evolved AI as OCR, Voice … no code needed.
by designing your processes in harmony with your visual organization chart mastered by ROK.
2

All-in-one organizational chart, bots, AI, business rules, risks
Allow all users in your organization to create professional applications or bots without any technical or coding skills, in complete security.
IGA: Master your organization chart
to ensure responsibilities, rights, SOD, and access management.
Risk control and application mapping.
Through reports, unified data, Kanbans, agendas.
Resolve issues like managing, finding, sharing, and tracking documents thanks to an innovative electronic document management system.
and channel the collective intelligence of your company through ROK collaborative platform.
Innovate by transforming business teams into citizen developers, offering them the ability to create new business applications without creating shadow-IT.
Its patented technology safeguards access provisioning
to legacy and new systems, guarantees identity governance and administration, and offers a secure environment for fast no code application creation.
ROK manages user rights around roles, responsibilities and the notion of "need to access".
Secure legacy system encapsulation
ultra accurate provisioning and deprovisioning of all legacy and new apps …
Create and deploy business applications faster
with no need for technical knowledge all while remaining in full control of access rights.
Easily design your reports
using ROK's platform that manages data access authorization in total compliance with internal rules.
Expose secured and structured data
to external major BI specialized platform; no code needed neither to design nor to interconnect.
to keep you informed of any new important event either via mail, chat, or phone.
thanks to ROK's ATAWADAC platform.
5

Follow and pilot individual and community initiatives
Channel the collective intelligence of your company
can be used to pilot and document the development of new applications or complex automation workflows.
can be created around interests, projects, or digital transformation initiatives.
is put at your disposal as your project management tool that generates Kanbans and Gantt charts in real-time, updates your calendars, and integrates the appropriate documentation.
allow you to collaborate through chat, mail, and video…
Benefits
Benchmark
Features
Index your work in progress
with comments you can share with your project team
to-do lists, responsibilities, plannings and delays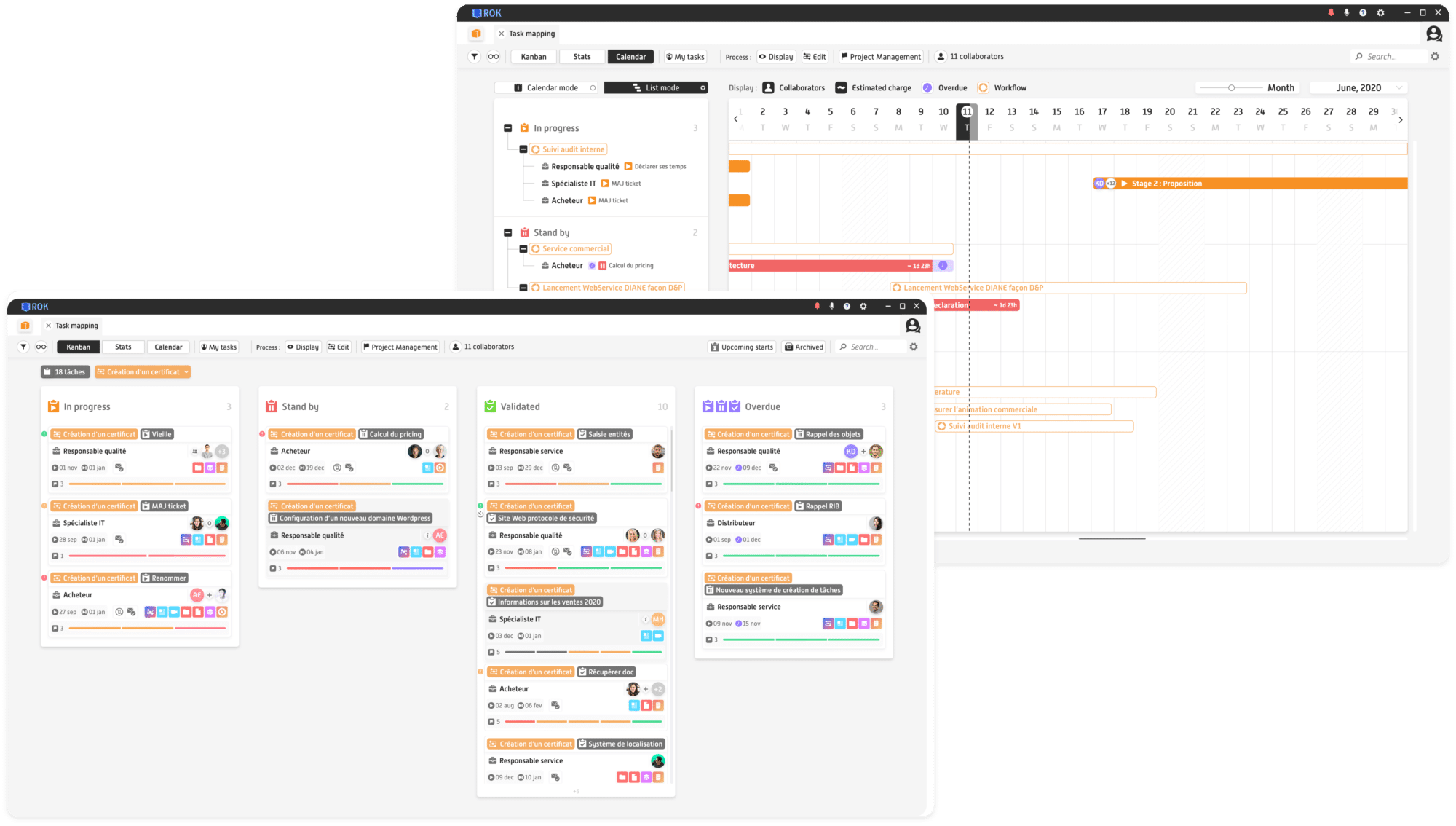 Organize & distribute tasks
Follow Gantt project chart
Use Kanban to overview your projects
one by one, all together or by any other specific topic: department, team, priorities …
Instantly create smart communities
with comments you can share with your project team
Automate the use of chat, emails, alerts, video conferences
to-do lists, responsibilities, plannings and delays.
Secure information & documentation
flows regarding your project by automatically  identifying responsibilities and roles.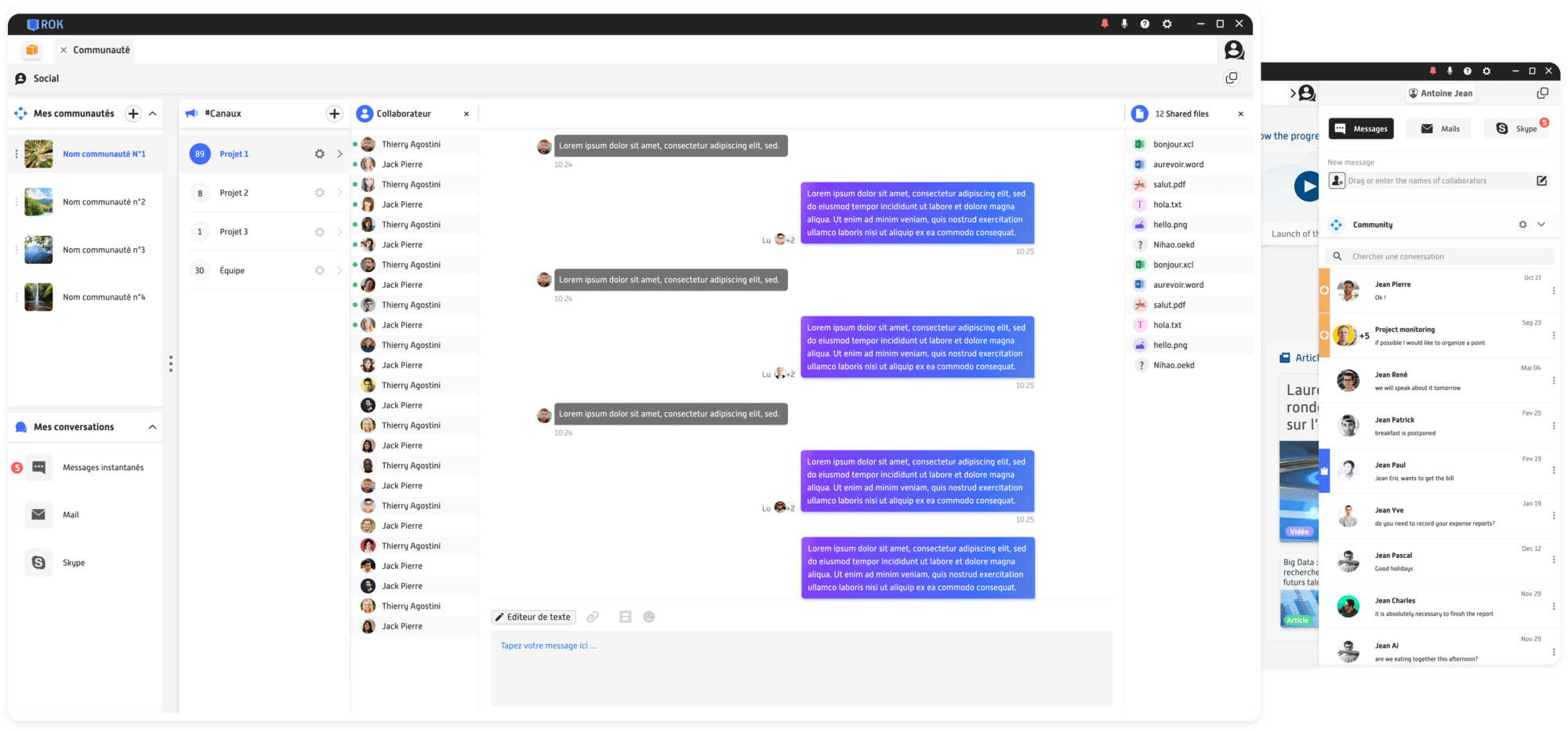 Benefits