Promote digital initiatives
through No Code applications
All while strengthening security
ROK is the world's first compliant-by-design No Code platform that natively combines robust Identity Governance and Administration services with No Code application creation and orchestration abilities.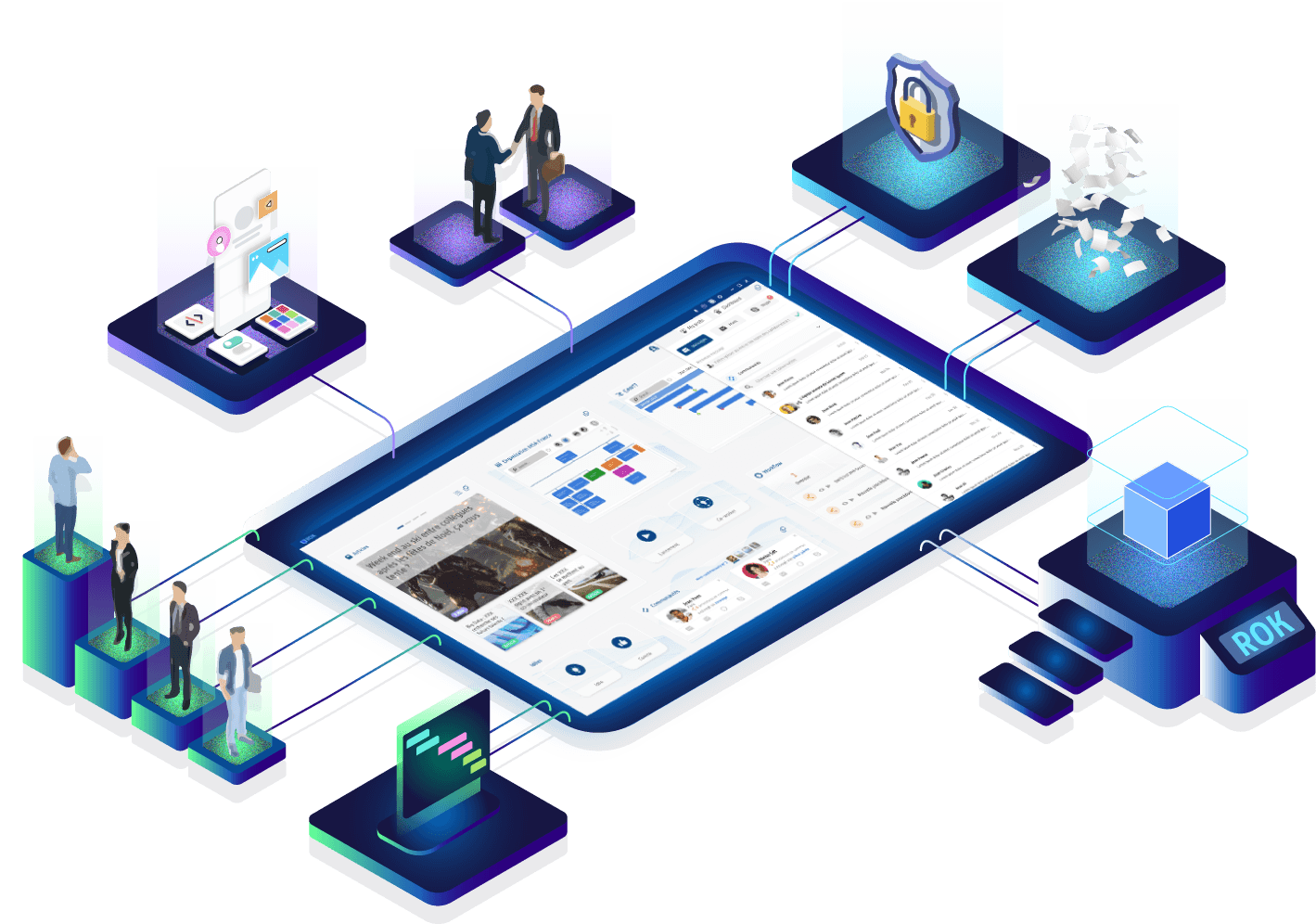 What's Team management?
It's the ability of a manager or an organization to coordinate a group of persons into performing one or more tasks.
ROK is a simple and powerful answer
ROK allows to remotely create task forces, prioritizing tasks assigned to them, and coordinate and assist teams in all the duration of your digital transformation projects.
What is IAM ? (Source Gartner)
« Identity and access management (IAM) is the discipline that enables the right individuals to access the right resources at the right times for the right reasons.
IAM addresses the mission-critical need to ensure appropriate access to resources across increasingly heterogeneous technology environments, and to meet increasingly rigorous compliance requirements. IAM is a crucial undertaking for any enterprise. It is increasingly business-aligned, and it requires business skills, not just technical expertise »
By design ROK is an IAM solution
According to Gartner « Enterprises that develop mature IAM capabilities can reduce their identity management costs and, more importantly, become significantly more agile in supporting new business initiatives »
What is low-code / no-code?
A low-code platform (LCAP) is the promise of an environment that allows you to create applications through a graphical interface with a minimal or noprogramming knowledge. The share of programming without code is generally estimated at 80%.
A no-code platform prevents you from needing any programming skill.
ROK is a no-code platform
The advantage of this type of platform is twofold:
Go fast and agile
Delegate to the business what was the responsibility of IT yesterday
The disadvantage of this double advantage is less control over access management, compliance and therefore high exposure to cybercrime.
Build your transformation on a ROK
Don't compromise your IT security & access governance when building your powerful low-code applications!
An accelerated change in the way we work
Risks & Challenges of digital transformation
An easy and secure digitalization with ROK
An accelerated change in the way we work
Risks & Challenges of digital transformation
An easy and secure digitalization with ROK
The number of cloud applications deployed has mushroomed
Businesses are under pressure to digitalize and solutions are often deployed with no IT oversight and little thought given to security.
"The average organization uses more than 1,900 unique cloud services (a 15% increase from previous year). Yet, most organizations believe they only use around 30"
"Seven in ten boards of directors have accelerated digital business initiatives in the wake of COVID-19 disruption."
The dawn of no code and hyper automation
In order to remain competitive, companies must promote individual initiatives through no code applications, under security control which can be done thanks to our unique solution automating back-office processes.
"By 2024, organizations will lower operational costs by 30% by combining hyperautomation technologies with redesigned operational processes."
"By 2024, low-code application development will be responsible for more than 65% of application development activity"
"Seven in ten boards of directors have accelerated digital business initiatives in the wake of COVID-19 disruption."
Remote work has become a new default
The global pandemic is also forcing a dramatic change to the way we work. For many companies, remote work has become a new default. For security teams, the move is causing chaos.
"Estimates from Eurofound (2020) suggest that close to 40% of workers currently working in the EU began to telework fulltime as a result of the pandemic."
"The number of daily meeting participants on Zoom grew from 10 million in December 2019 to 300 million in April 2020."
The more you transform, the more you're exposed to risk
Shadow IT
Identity Sprawl
Compliance
"Yet, only 33 percent of companies can produce a company-wide report within 24 hours demonstrating "who has access to what."
« Research has found that 77% of IT leaders and 71% of business leaders agree that IT teams have a huge pipeline of new IT solution requests, which aren't being built. »
The more you transform, the more you're subject to regulation constraints
Data breaches
Data protection regulations such as GDPR, HIPAA, GLBA, CCPA, PSD2, Basel III and CDR
SoD (Segregation of Duties)
Cybercriminals are feasting on COVID
As the COVID-19 is spreading across the world, cybercrime levels have been rising with it. Cybercriminals take advantage of the fear and uncertainty surrounding the increased time spent online, and the work from home policy.
"A new research including input from 25 CIOS at major financial institutions indicates that the Coronavirus pandemic has been connected to a 238% surge in cyberattacks against banks."
You need an all-in-one platform
that natively handles access management in complex, hybrid environments.
that reflect the role and responsibility of each employee on real time
that might be shared between IT & those who have operational knowledge
that is able to keep up with rapid reorganizations, expansions and internal changes in responsabilities
that is able to translate complex organizational shifts into provisionning and deprovisionning requests automatically
You need an easy to use no code solution
that enables business professionals and their consultants to create new applications, orchestrate existing ones, no coding required.
Intuitive workflow & bots creation interface
Easy to design forms, rules, algorithm and connectors that will be in natural language to facilitate and maintain integrations
Integrated lean and project management tools to accelerate deployment, share ideas and secure apps & bots
You need a secured application
that creates inherent compliance and safeguards it over time.
It must provide out of the box reports for all common regulatory requirements
It must provide visibility into users, responsibilities, granted access and risk assessment dynamically without burdening IT teams for regular updates or configuration changes
It must provide a holistic and future-proof approach that is flexible enough to deliver on any new regulatory requirement
You need a solid foundation
to enable citizen app creation initiatives.
It must enable business teams and their service providers to orchestrate existing applications, create new ones – including robotic process automation apps – without a single line of code
It must go beyond low-code approaches and enable users to create applications easier and faster using no code whatsoever and no help from IT
Your Company's Cornerstone
ROK is ideally suited to support the digital transformation of business and governmental organizations that must reconcile stringent security, compliance and digital transformation needs.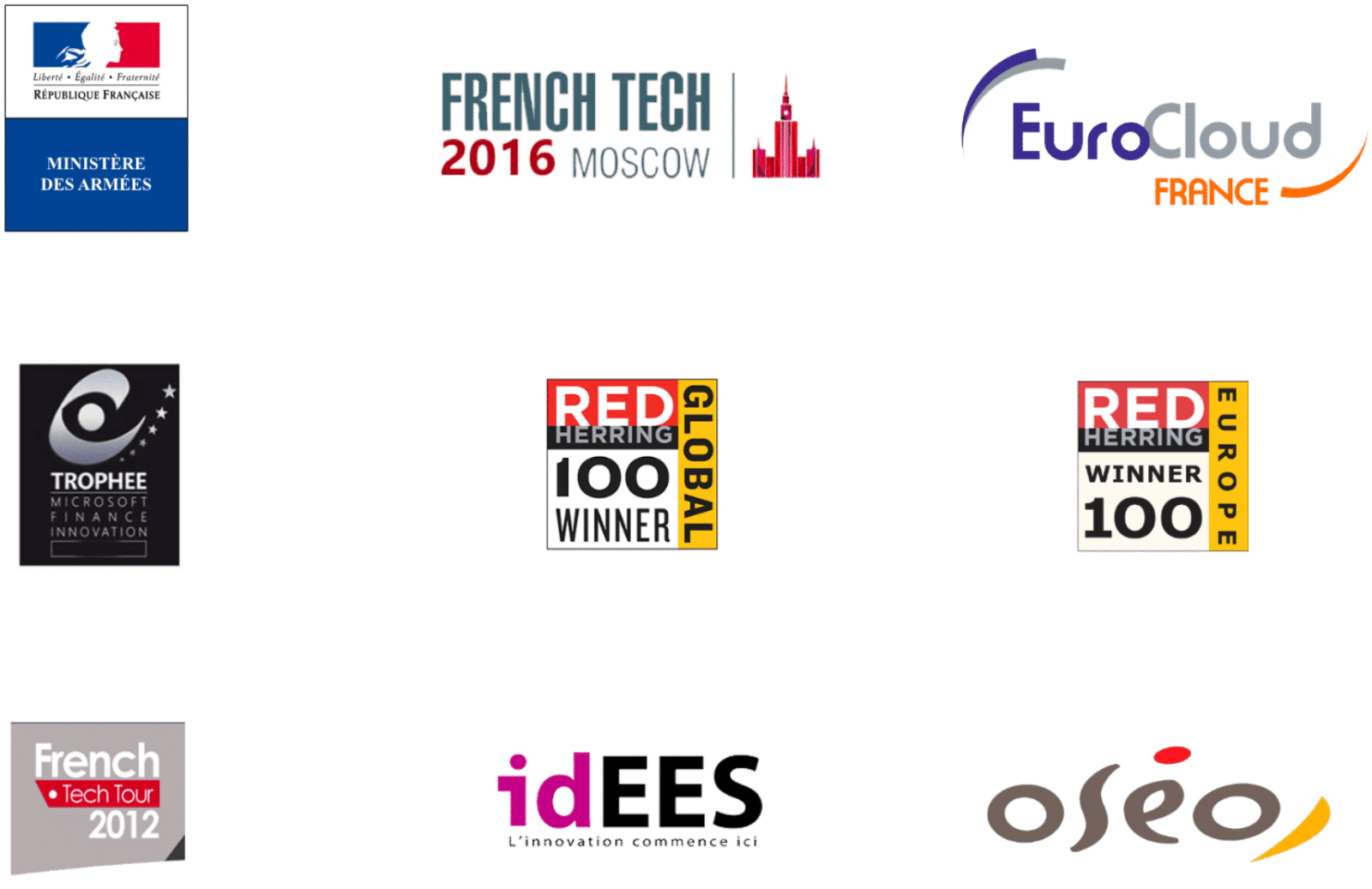 ROK's award-winning approach
ROK's solutions focus on providing security and digitalization to allow companies to tackle their challenges of both reliability and agility.